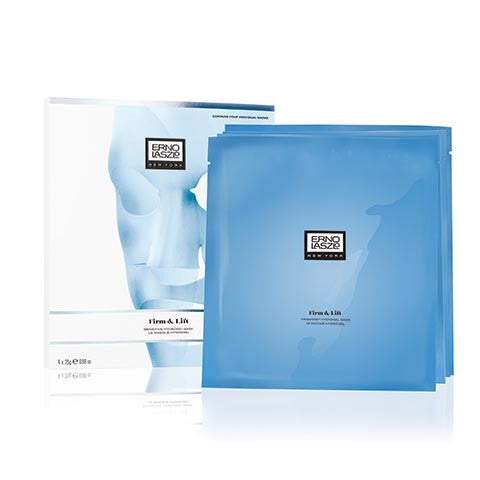 erno laszlo
Firmarine Hydrogel Mask
Improve elasticity. Feel volumized. Experience the luxury.
This hydrogel 2-piece firming mask feels feather light and won't slip off—mimicking skin's own texture to deliver lifting, firming and plumping hydration deep below the surface. Remove and reveal newly supple contours, better elasticity, less sign of wrinkles or sagging—and the return of youthful radiance.
• Argan Oil neutralizes free radical damage and restores skin lipids for moisturized protection.
• Algae Extract prevents water loss and removes toxins.
• Grapefruit Extract fills out fine lines, contours and plumps skin with its sky-high water content.
HYDROGEL MASKS
Hydrogel masks are very similar to the traditional sheet masks, and are applied in the exact same way. The big difference is the material. Instead of being made of cotton or fiber, it is made up of a slicker gel material that locks in moisture in a 2-piece mask. The base material is oil and moisture hydrogel that is very similar to skin's texture. They will stay in place with no slipping and sliding with a very nice form to your face.

How-To Use:
1.Perform your bespoke cleansing ritual. We recommend you double cleanse with oil and soap.
2.Gently remove mask from its soft package.
3.Remove film back and gently apply to dry skin. Adjust around eyes and mouth for a perfectly contoured fit.
4.Leave on for 15-20 minutes (mask stays put while standing and moving).
5.Remove mask and gently pat remaining serum into skin for full absorption.