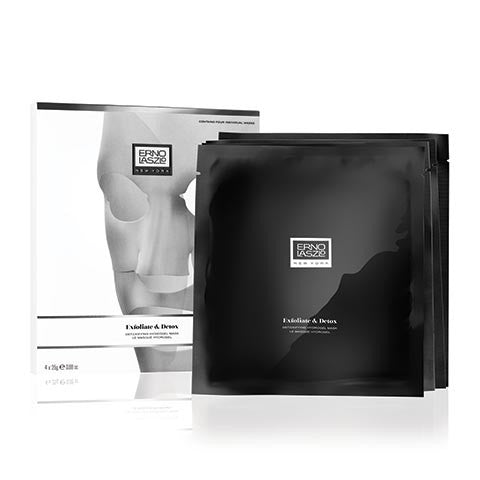 erno laszlo
Detoxifying Hydrogel Mask
Make pores virtually disappear. Feel toxin-free. Experience the luxury.
As comfortable as a second skin, this 2-piece lightweight hydrogel mask stays put and detoxifies deeply—even while you go about your day. Drawing impurities from both complexion and cells, it expels toxins, shrinks the look of large pores, and leaves skin soft, refined and revived.
• Charcoal draws out impurities from pores while refining your skin and revealing a fresh complexion.
• AHA Fruit Blend gently whisks away surface dead skin, imparting a radiant glow.
• Kiwi Extract helps you produce collagen and repairs damaged cells while you wait.
HYDROGEL MASKS
Hydrogel masks are very similar to the traditional sheet masks, and are applied in the exact same way. The big difference is the material. Instead of being made of cotton or fiber, it is made up of a slicker gel material that locks in moisture in a 2-piece mask. The base material is oil and moisture hydrogel that is very similar to skin's texture. They will stay in place with no slipping and sliding with a very nice form to your face.

How-To Use:
1.Perform your bespoke cleansing ritual. We recommend you double cleanse with oil and soap.
2.Gently remove mask from its soft package.
3.Remove film back and gently apply to dry skin. Adjust around eyes and mouth for a perfectly contoured fit.
4.Leave on for 15-20 minutes (mask stays put while standing and moving).
5.Remove mask and gently pat remaining serum into skin for full absorption.