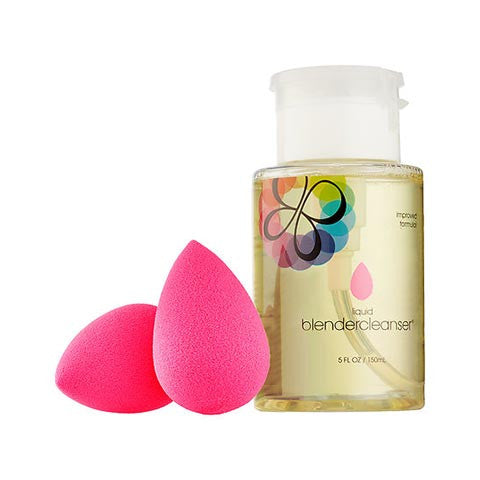 beautyblender
Two.BB.Clean
What it is:
A set with two award-winning beautyblender® originals and a liquid blendercleanser®—all wrapped up in a giftable cleanser kit.

What it is formulated to do:
Flawlessly apply foundation, powder, bb cream, cc cream, and more with the duo of beautyblender originals. Featuring a liquid blendercleanser, it removes excess residue and germs from your beautyblender originals for a clean makeup application—plus, it can be used to clean your go-to makeup brushes.

This set contains:
- 2 x beautyblender original
- 5 oz liquid blendercleanser

What it is formulated WITHOUT:
- Parabens
- Sulfates
- Phthalates

What else you need to know:
Beautyblender features an open cell structure that fills with small amounts of water when wet. This allows the sponge to be "full" so that the makeup product sits on top of the sponge rather than being absorbed, allowing you to use less product every time. When wet, beautyblender doubles in size and becomes even softer, returning to its original size when it air dries.
Suggested Usage:
-Beautyblender® original:
-Wet it with water.
-Squeeze out the excess water, using a towel if available.
-Bounce primer, foundation, powder, BB cream or any other complexion product across the face for flawless results.

To clean with liquid blendercleanser®:
-Using damp beautyblender, press on the pump nozzle, distributing cleanser onto the surface of the sponge. Lightly squeeze and work into a lather.
-For stubborn stains and to break down makeup residue, pour a small amount of blendercleanser into a bowl with water, lather, and soak for a few hours or overnight.
-Remove any excess water and place beautyblender originals in a clean, ventilated area to dry.

Precautions:
-Beautyblender has chosen to use safe, water-soluble dyes that do not harm the environment and will maintain the integrity of their proprietary foam. For this reason, you may notice some color run off or wash away the first time you wet beautyblender. (This is normal and will disappear after you have cleansed the product several times. Please note: the color will not transfer onto the face or clothing.)